CAMRA Voucher Scheme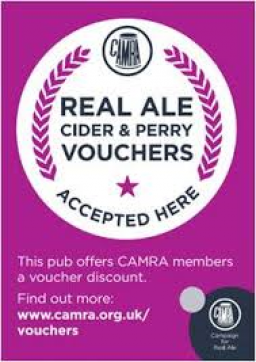 One of the benefits of being a CAMRA member is that you can use 50p CAMRA Vouchers to obtain a discount in certain specified pubs when buying a pint of real ale, real cider, or perry.
The CAMRA Voucher Scheme was introduced from July 2019 to replace a previous voucher scheme which was exclusive to Wetherspoons pubs only. It complements the existing Real Ale Discount Scheme.
The following pubs in the CAMRA Central Lancashire branch area are those that are participating in the CAMRA Voucher Scheme:-
As explained on the individual 50p vouchers there are terms and conditions that apply.
It is envisaged that more pubs will join the scheme once it gets established.