Crankshaft Brewery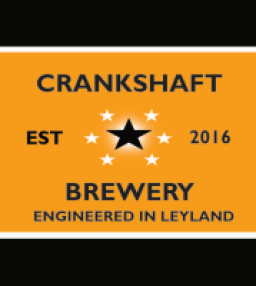 INFORMATION
This brewery is located in Leyland. The owners are Haydn and Angela Williams.
Address: Units 17e/f, Boxer Place, Leyland, Preston, PR26 7QL. Telephone: 07415 816107.
For more information see Crankshaft Brewery Website and Crankshaft Brewery Facebook.
Dave Moore (e-mail: moc.liamg@cfweroomdivad) is the branch's Brewery Liaison Officer for this brewery. Please make contact if you have any questions or comments about Crankshaft Brewery.
BACKGROUND
The brewery was established in 2016, with their bottled beers first making a public appearance at the Taste of Leyland festival in August 2016. They commenced producing draught beers on cask towards the end of 2016, with the Market Ale House, Leyland becoming the first of their regular outlets. In August 2018 they opened their own micropub, the Bar 47, Higher Walton, and in April 2019 they opened the Crankshaft Brewery Tap, Leyland at their brewery premises.
The initially produced five bottled beers:-
Propshaft (3.8%) - a Lancashire golden ale.
Crankcase (5%) - a Lancashire best bitter.
Ribble Red (5%) - a Lancashire red ale.
Dryveshaft (5%) - a Lancashire rye ale.
Sumner's Steam (7.5%) - a Lancashire braggot (honey) ale.