Bishop's Crook Brewery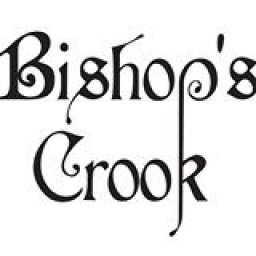 INFORMATION
The Bishop's Crook Brewery was founded in December 2012, and was located in Penwortham. Initially there was a period of consolidation with much test brewing, and their next landmark came in November 2013 when they were granted a licence by HMRC to commercially brew their beers. Exactly one year later, in November 2014 they became members of SIBA, the Society of Independent Brewers.
Brewing ceased in August 2017, with the intention that work take place to increase the brewing capacity. Subsequently the brewery was mothballed, and there was no commercial beer production in 2018 or 2019. In April 2020 it was announced that brewing was to re-commence. However due to the Covid-19 lockdowns that year this return to brewing failed to occur.
The beers produced in their first incarnation (2013-2017) included:-
Initiate (4%) - A golden ale with strong citrus and tropical fruit flavours.
The Withy Way (3.8%) - A light pale ale with floral, citrus and tropical flavours.
Lancashire's Invaders (4.2%) - A refreshing amber coloured ale, well hopped and providing a burst of grapefruit, lemon and pine.
Ah Fuggit (4%) - A copper coloured ale brewed with traditional English hops and with a citrus twist.
Galaxy (3.7%) - A light pale ale with distinct passion fruit flavours.
Bonkers (4%) - Originally named 'Nipper's Champagne', this beer was first brewed for the 2015 St Gerard's Beer Festival.
Winding Staircase (3.8%) - A golden ale with a slight malty taste, also having tangerine notes from three hop additions.
Brown Edge (4.1%) - A chestnut coloured ale with slight malty tones and a hoppy finish.
10D (3.8%), Test Track Lap One, and Test Track Lap Two.
The first outlet to sell their beers was Our Lady & St Gerard's Parochial Centre, Lostock Hall. Subsequently their beers appeared in the area at the Market Ale House, Leyland and the Ale Emporium, Preston. During February 2014 'Initiate' was the 100th different beer to have been sold at the Market Ale House, while during March 2014 'The Withy Way' was the 100th different beer to have been sold at the Ale Emporium. Since this time their beers have been on sale at a number of other pubs in the branch area.
With the opening of the Guild Ale House, Preston in February 2016, Bishop's Crook gained a regular outlet for their beers in the centre of Preston. A house beer Two Screws (Winding Staircase) became a semi-permanent beer there, while other Bishop's Crook beers also often made an appearance.