LocAle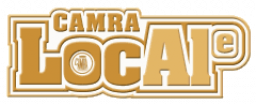 CAMRA LocAle is an initiative that promotes pubs and clubs that are stocking locally brewed real ale. The scheme builds on a growing consumer demand for quality local produce and an increased awareness of environmental issues.
The first CAMRA LocAle initiative was launched in Nottingham in 2007. Since then many CAMRA branches have set up their own schemes, with CAMRA West Lancashire branch (as we then were) first launching a LocAle initiative in 2009.
To qualify for inclusion in the CAMRA Central Lancashire LocAle scheme a pub or club must be stocking a beer that is brewed within 30 miles of their premises.
Establishments that qualify will often display LocAle promotional material - look out for 2014 window stickers.
Go to LocAle Outlets for information on pubs and clubs in the Central Lancashire branch area which are currently part of the LocAle scheme.
Go to Local Breweries for information on breweries in the Central Lancashire branch area.